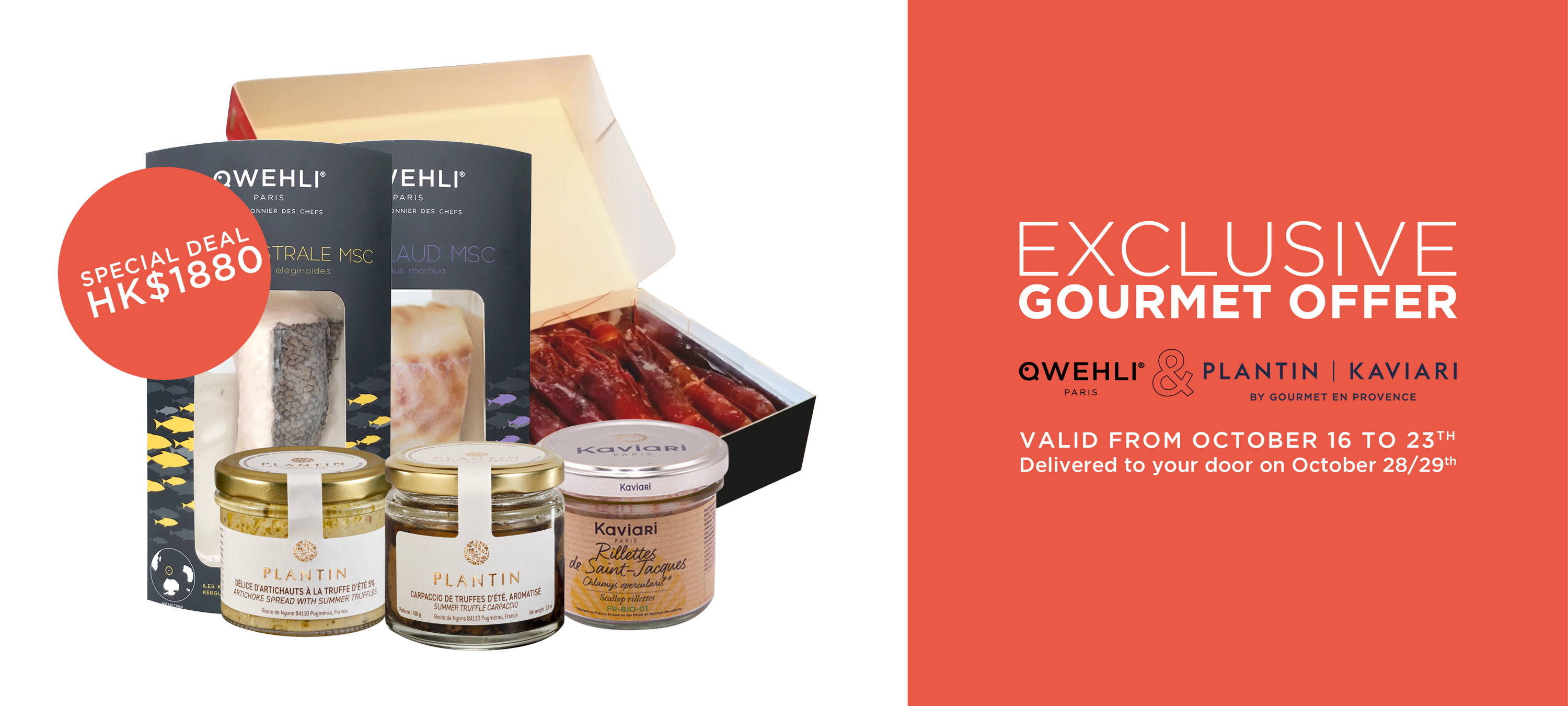 Limited time offer
Valid from October 16 to 23th, 3pm
Limited quantities
Only 30 baskets available
Save more than HK$200
Real Value = HK$2096
Get the French gastronomy delivered to your doorstep with Plantin Kaviari! We carefully select our partners amongst the most renowned of their field, to offer the finest online selection.
Caviar, Truffles, fresh meat and poultry, cold cuts, cheese, chocolate, fruits juices, delivered home in a few clicks!
A unique selection of products for the finest gourmets
Terms & Conditions:
Offer valid from October 16th, 7am to October 23th, 3pm while stocks last.

Limited offer to 30 baskets ONLY.

This special offer can be combined with other products from QWEHLI website.

Delivery will be schedule on 28 or 29th October. Delivery will be ensured by Plantin-Kaviari. Timeslot delivery will be confirmed the day before delivery.

Customer must make sure that someone is always available at the delivery address during the time slot allocated for delivery. If no-one's home during the scheduled delivery time, the delivery will be rescheduled and would occur an extra charge of HK$150. At the time of delivery, the customer or someone on his behalf MUST inspect the goods and sign the order. If someone at the delivery address other than the customer signs for the goods; we would assume this person is authorized by the customer to do so. We will not leave the box(es) in front of customer's door without someone to sign the order except if we receive the written consent prior to the delivery. We decline responsibility for defrosting and lose of freshness for Goods, neither for lost, stolen Goods.


If you are unable to take delivery of the order on October 28 or 29th, please inform us as soon as possible, at one working day before by email at order@qwehli.hk or WhatsApp 5125 7240.

Qwehli products will be delivered frozen. Plantin Kaviari products will be delivered chilled.

Photos are for reference only.

No exchange, no refund.