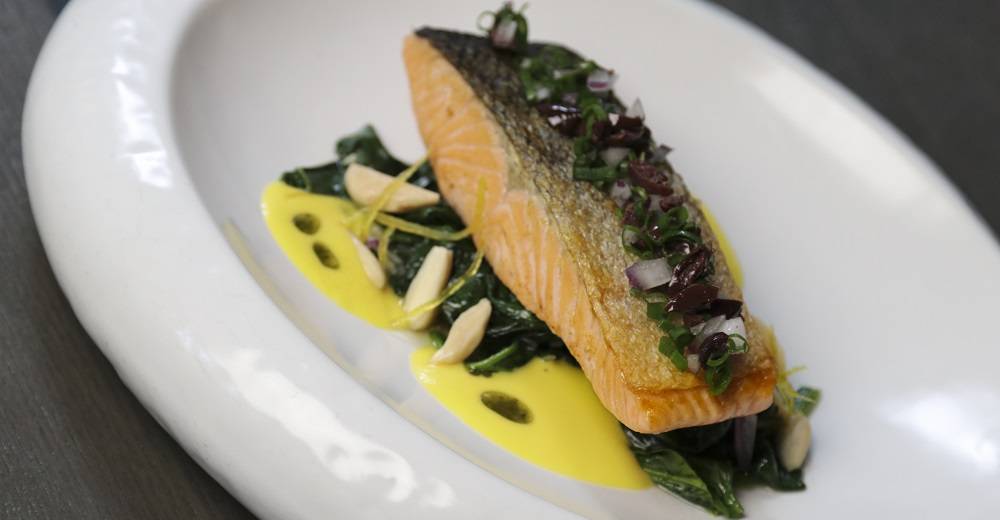 PAN FRIED SALMON WITH SPINACH
AND MANGO SAUCE
Prep time: 10 minutes
Cook time: 10 minutes
Total time: 20 minutes
1 Qwehli® Salmon pavé or 1 large fillet 1-2kg fillet
Olive oil
Fresh spinach
Onion
Butter
Salt and Pepper
Sauce:
Mango
Lime juice
Olive Oil
Start scaling the fillet.
Heat a little bit of olive oil in a pan and place the pavé on the skin side. Sear the fish for 3 minutes on high heat, cover and lower the heat to cook for further 6 minutes. Flip the flesh side and brown for 30 seconds. Add salt and pepper.
Meanwhile, fry the spinach leaves in a pan with garlic, onions and butter for 2 minutes.
Arrange the salmon on a dish and add chive, red onion and some black olives.
Chef's tip: For a sweet touch, prepare a mango sauce. Mix together mango, lemon juice and olive oil. Put everything in the blender.